London Marathon 23rd April 2017
Our biggest event since we began as a charity was the London Marathon 2017. We were one of the chosen charities picked from the charity ballot and crossed the finish line on Sunday 23rd April at The Mall in the center of London. The crowds made the event and carried us to the finish line in 4 hours 8 minutes. It was an event that we will never forget and completing the London Marathon meant that we had completed our Sheffield Half to London Marathon Challenge 2017. With the unreal support of so many people and the generous donations of so many more we raised a grand total of £1,244.00 and including gift aid that total amounted to £1,449.00.

TOTAL RAISED FOR THE SHEFFIELD HALF AND THE LONDON MARATHON 2017: £1,244.00 / £1,449.00 (inc. gift aid)
Sheffield Half Marathon 9th April 2017
The Sheffield Half Marathon was our fourth time taking part in this event and the day didn't disappoint. Whilst the weather was slightly hotter than expected the Sheffield crowd didn't let us down and we crossed the finish line, completing the first part of our Sheffield Half to London Marathon Challenge 2017!
Christmas Charity Ball 3rd December 2016
Our first Charity Ball was held at the Millennium Galleries in Sheffield and our 75 guests were welcomed with a Christmas mulled wine fizz followed by a 3 course meal. The event also had a photo booth and a raffle with several great prizes! The evening was a huge sucess and we raised £1069.17 for Project Sulangan!
Thank you to all those who attended! Pictures can be found on our Facebook page and will be uploaded to the website soon.
TOTAL RAISED: £1069.17 
Edinburgh Marathon 29th May 2016
Our second marathon took place in the city of Edinburgh, the capital city of Scotland. This was the final event of our Sheffield and Edinburgh Challenge 2016. This was a combined event in which money was also raised for Breast Cancer Care. The total combined amount raised for both Project Sulangan and Breast Cancer Care was £1,245.00, with £751.15 of this amount going to Project Sulangan. The atmosphere in Edinburgh got us to the finish line and we are beyond grateful for everyone's support and donations throughout these two events. Thank you so much for all the support and thank you Edinburgh for a memorable experience!
TOTAL RAISED FOR SHEFFIELD AND EDINBURGH CHALLENGE 2016: £751.15
Yorkshire Half Marathon 10th April 2016
Today was the Yorkshire Half Marathon, a total of 13.1 miles around the city of Sheffield. Sponsored by PlusNet, the half marathon was a tough course with about six miles of the course up hill. But with the weather on our side and the beautiful people of Sheffield cheering us on it was a great day to be raising money for Project Sulangan! Our next stop will be Edinburgh Marathon on the 29 May 2016!
TOTAL RAISED: ONGOING
Manchester Marathon 19th April 2015
Our first marathon took place on the streets of Manchester and also was the final event in our Sheffield and Manchester Challenge 2015! There really are no words to describe the feeling of crossing the finish line after a gruelling 26.2 miles, but all we can say is that it was so worth it and we cannot thank our donors and supporters enough! You got us over the finish line! Thank you Manchester!
TOTAL RAISED FOR SHEFFIELD AND MANCHESTER CHALLENGE: £442.50
Sheffield Half Marathon 12th April 2015
Our second time taking part in the Sheffield Half Marathon, which is now referred to as the Yorkshire Half Marathon after being sponsored by plusnet and organised by the Yorkshire Marathon Series. The day was filled with the beautiful people of Sheffield cheering on all the runners around a very hilly 13.1 miles. The run came to an end just outside the Sheffield Peace Gardens where medals were proudly worn and some very tired faces were glad to see the finish line! Thank you Sheffield!
TOTAL RAISED: ONGOING
Surfboard Raffle Drawn in Australia! 7th January 2015
In April 2014, Treehouse landscapes and handshapes, a surfboard company based in Australia set up a raffle. The raffle was for a handmade surfboard and the plan was to sell tickets to be in with a chance of winning this surfboard.
About 250 tickets were sold and the raffle was drawn on the 7th January 2015.
The winner was Justin Baine from Longue, NSW, Australia.
Funds raised from this raffle will go to continue to help rebuld our Kindergarten project!
We would like to thank Treehouse Landscapes and Handshapes, Simon Tedder and the Tedder family for making this happen!
TOTAL RAISED: AUS$2240
BUPA Great Yorkshire Run 28th September 2014
On the 28th September 2014, Project Sulangan took part in their second fundrasing event, which was the Great Yorkshire Run 2014 held in Sheffield, UK. The day got off to a great start with great weather!
Thank you to all those who supported us for this event!
TOTAL RAISED: £181.25
Sheffield Half Marathon 6th April 2014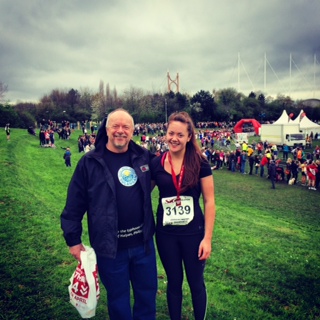 One of the first fundraising events for Project Sulangan was the Sheffield Half Marathon, UK!
Although it got off to a shakey start due to the race originally being cancelled a few minutes before it started due to a lack of water, The competitors decided to run anyway! Great support from the people of Sheffield spurred everyone on!
A great day was had by all!
TOTAL RAISED: £311.00